Professional poker player Nick DiVella's name surfaced in November last year when he started a petition to get Howard Lederer banned from the Aria poker room. Unfortunately that petition did not have the desired result, though we have to give props to DiVella for trying. Five days ago DiVella popped back up onto our radar as he Tweeted out the following, astonishing, prop be that's going to take place from September 15 till the 20th.
DiVella was kind enough to grant us some of his time, and from the comfort of his home office he talked to us about how this bet came to life.
"There's this guy named Andy, a millionaire from Dallas, who comes into town on a regular basis. We've become friends through playing $5/$10 with each other at Aria, and we do stuff like this all the time. Maybe it's usually not of this magnitude, because this time the social media is taking quite a liking to it. There have been some other bets we've made in the past and there is some video evidence," DiVella started off with.
"The bet came together when we were just talking at the table. I wrote the rules down and at one point I said, "You got a deal," and I Tweeted it and than it blew up. The official rules will probably come out a few days before the actual bet. One thing has already been changed as the visitation hours have gone down to zero and I can now win $22,500."
DiVella looked up some links from his YouTube channel and sent them to us. The premise in the first video is quite clear, as DiVella received $1,000 from Andy for getting a bottle of Powerade poured on his head. The details of the second video are a little less clear when watching the video, but DiVella explained the terms to us.
"So I got $1,260 to put icing on my face for two and a half hours while playing $5/$10 at Aria. After that another $5/$10 player licked it off my face and he got $600. That was disgusting, but oh so hilarious," DiVella said.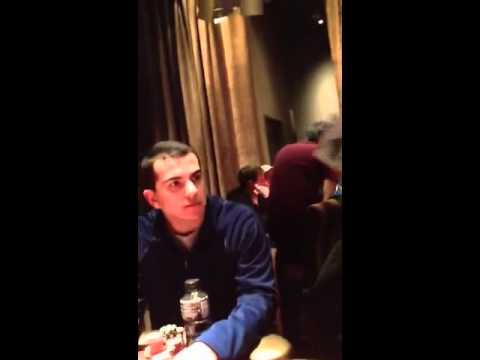 The talk about bets with his rich friend kept coming and he also explained how he once ate a pound of cake and drank an entire bottle of Acqua Panna for $300 in nine minutes and 30 seconds.
"I made it with seconds to spare, immediately threw it up and felt like crap for the rest of my session," DiVella said about this bet.
"It's usually on the spot, and on a whim, where I do some fun things for money. This bathtub bet is not supposed to be impossible. It's supposed to be a "Nick endures some pain and I'll give him some money," type of bet, because $20,000 doesn't mean anything to him and $4,000 doesn't mean anything to me. This is just something that we're playing, and it came up on the spot, that's it. There are some things I've turned down in the past, like $17,000 to walk from LA to Vegas. The rules of that bet were that I could not be in a building for more than half an hour. I thought that was a little bit too dangerous, so I turned it down." DiVella said that this walk could've cost him almost four days, if he had walked non-stop.
"When talking about this bathtub bet with other people they've said that I should've negotiated to get a bar of soap and toilet paper. But the way this guy works is, I basically have to give something up to get something. I'm going in there with a pillow and the clothes on my back, I have nothing to negotiate with. If I want something, and he says no because it doesn't benefit him, well then that's it. It's not like he's trying to win the bet, he's a multi-multi millionaire and could give two shits about $4,000. This is just a fun thing to do, and he likes to see me endure some pain." DiVella added that this crazy bet that might even spark more bets between the two.
"If he wants to give me money for pouring Powerade on my head, I'll be his guinea pig. We're giving him some entertainment, but I don't want it to sound like I'm stealing from a rich man. That's not how I look at it at all. It's all for the fun of it. I also offered my $10,000 to his $25,000 if I could have a bar of soap. He said no to that, because the money is irrelevant to him."
A bet like this, and DiVella has about a month left to prepare for it, could be easier to deal with if you knew what you were up against. DiVella sees this too and he has spent six hours in his own tub to see what it was like.
"It's pretty painful. I used the pillow to sit on, while most people would probably think that it's for your back or head, and I used my clothes as support for my back and shoulders. When I tried to lie down in the fetal position I had to put on my shoes because curving of the tub hurt my feet. The only way to sleep, I think, is with my feet up on the counter. I haven't seen the tub that I'm going to be spending six days in, but sleeping is going to be the toughest part. I don't know what kind of tub it's going to be, but probably one in a regular size hotel room in Las Vegas. I don't know which hotel, or what the bathtub looks like right now. It's possible that the shower won't be attached to the bath, I know different hotels have different setups. I'm not allowed to bring a towel or a bar of soap. I'm hoping last minute he'll allow me to bring a toothbrush. He's not looking to do any long-term damage to me, that's for sure." DiVella said as he got into the specifics of spending six days in a bathtub.
Research shows us that this is what the Aria bathtub looks like...
On the question, "Are you scared, excited or maybe confident about this bet?" DiVella had a very interesting answer.
"All of the above," he said.
"This is how everyone's mind works: You hear about the bet and think it's really easy, and it's like stealing $20,000. Then you realize that you can't leave the tub to take a shit. You also realize that your back is going to hurt a lot and that's going to be torturous. The third step is, "Oh wait, it's $20,000 and you can suck it up and do it," and right now the biggest fear, maybe not really a fear but a worry, I have is sleeping. It's going to be the worst six days of my life, but also the easiest $20k I've ever made," DiVella said.
"I ain't leaving that tub," DiVelli said with a smile when we asked if either party would consider buying out at some point during this bet.
"He allowed me to have books, 20 sheets of writing paper and a marker. Maybe I can keep a diary, or make my own rubber ducky and play battleship with myself. Besides that I'm planning on getting up every half an hour to do stretches and also read while I'm standing up. I don't know what else to do, there's not a whole lot I can do besides read and stretch." DiVella said.
"He asked me what my favorite type of food was, and off the top of my head I said "PB and JS," and he responded with saying that I could have five of those a day, and all the water I want to drink," DiVella said about how he's going to survive this challenge. The young poker pro also explained that he's still allowed to change his choice of sandwich if he wants to.
"The five-to-one bet is very generous, and I'm not saying this bet is easy because it's not. It also could be a lot worse, as he could've suggested that the lights had to be off the whole time, or I had to drink the tub water for instance. On the other hand, a bar of soap and a moment to get out and go to the bathroom, would make it a lot easier." DiVella said as he gave us some thoughts on how this bet could've been either harder or easier with a few details amended.
As we all know, poker players like to gamble. Therefore, it's an easy assumption that this bet is going to draw a lot more attention from other bettors.
"I'm sure people are betting on this bet, and I don't see why I couldn't take any side action on this. As of right now I haven't had any offers, all I hear so far is people telling me that they don't like my side, but that they're not willing to bet against me.
There is a chance this bet will be live streamed according to DiVella,"If I have to do anything private we can obviously just turn the camera away." Make sure to stay tuned to iGaming.org as we will keep you updated with the latest on this crazy prop bet. The official rules will also be posted here as they are released, but for now all we can do is wait and speculate on how this is going to turn out, "I don't know what I can negotiate and if it will be to my benefit. We've got a month left before the bet starts, so we'll see what happens," DiVella closed out with.