This is the second and final part of an interview series with Canadian poker professional Mike McDonald. You can read the first part here, in which McDonald speaks about how he got into poker, the role of his parents and buying a Lamborghini with his winnings.
In this part McDonald speaks about investing in both poker and stocks, why staking is stressful and how taking consistent small profits are better for the mind than dealing with huge swings. The youngest EPT winnner also explains where his intense staredown comes from, how it works and how it once didn't against none other than Phil Ivey. On top of all of this he also tells us about coaching two WSOP Main Event finalists.
Losing Stocks and Stressful Poker Investments
While McDonald didn't have to overcome huge swings or major losses, there's one downswing he clearly recalls from his early poker days, and interestingly enough it had nothing to do with playing himself.
"My first big loss came right after my first huge score in Dortmund, as that was a few months before the stock market tanked. My investments were very diversified across countries, sectors, industries and currencies but if everything drops 25%, it drops 25%. That was shitty because the biggest downswing I had in my poker career turned out to be completely unrelated to poker. It's funny because my job is gambling and I lost most money doing something I regarded being safe investments," McDonald said.
"That made me a little apprehensive to pursue other investments and it made me realize that in every single situation where money can be made money can be lost. Since then, for my non-poker investments, I've been extremely risk-averse even though I'm possibly passing up profitable things. I'd much rather gain 3% per year than have a 50% chance to gain 20% and a 50% chance to lose 10%. It's because losing feels worse than winning feels good when things are out of my control," McDonald said.
While his stock market exploits went awry he still invested in poker staking. Over the last couple of years the poker industry has seen many backers stop investing, and McDonald also says that he no longer takes part in this. He was however quite successful at it.
Mike at the WPT Alpha 8 final table in St. Kitts (Photo credit: WPT.com)
"I never really ran a big stable in poker but lifetime I've done really well, better than I should've. I do know, back in 2008 and 2009, that it was quite stressful to stake five or six players for live tournaments. I found that I was questioning my friends as to whether or not they were playing as well as they should, and the losses would always get to me more than the winnings made me happy. Between a friend and myself, back in the day, we might've lost $400,000 in 10 months staking. We then won $600,000 in the last few weeks of the WSOP to create a $100,000 profit per person of the year, but looking back on that all I can remember is 10 months of constant losing."
"That was a net positive year, but having to send $10,000 over and over and over again to various players, while only getting back money a few times was just very stressful. Looking on PokerNews and seeing your horses play hands in ways you don't agree with is hard too, and that comes from someone who's already extremely critical of himself. I even lost sleep over the stress of staking and once I got a chance to get out of it I did," McDonald said, but it was surely not for a lack of success that he decided to quit.
"It's fun to put in perspective how big some of the scores were I had buying pieces. My biggest score online at the time was $300,000 and second biggest maybe $30,000, while my 15% of Gobboboy (Jimmy Fricke) in the Aussie Millions Main Event netted me about $120,000. I also had 50% once of a Sunday Million winner and 50% of someone who finished second in the FTOPS Main Event, and that shows how insanely hot I rant at backing when I first got into it. I was well above expectation and I still found it stressful, so that should tell you something."
"People ask for staking all the time and I've got a very simple answer for that question. It used to be crazy and I would get maybe one PM on TwoPlusTwo per day about staking. Nowadays it's maybe just one per month, so it has died down a lot," McDonald said, as he's no longer staking any players.
Credit Where Credit is Due
Steve Paul-Ambrose and Aaron 'pacmann' Coulthard were vital to McDonald's steep learning curve before he was at the legal playing age. In an amazing e-mail McDonald asked Paul-Ambrose for help, and over time the three guys became best friends. Paul-Ambrose, former Team PokerStars Pro and PCA winner, no longer plays poker professional and neither does pacmann. McDonald tells us what happened to these two TwoPlusTwo legends and high stakes players.

Steve Paul-Ambrose's wedding party with Mike McDonald (back), Aaron 'pacmann' Coulthard (middle) and Steve Paul-Ambrose (front)
"I'd go over to Steve's house each Sunday and play in his basement. For the first few weeks I watched him and Aaron play while asking a million questions, and then got in the habit of setting up my computer on a small table between theirs. I'd ask them questions about $10/$20 to $75/$150 Limit Hold'em while I played $2/$4 to $5/$10 Limit Hold'em. After about two months they transitioned to primarily tournaments and I followed their lead. I'd play $22 180 mans while they played the big Sunday tournaments and we'd discuss a ton of strategy every time I'd visit their house," McDonald said.
"I think Steve was way-way-way-way ahead of the curve as far as poker tournament strategy goes. As far as people who would win a live tournament go, 90% wouldn't have even responded to my initial message and 99% would've been a much worse example to learn from," McDonald said praising Paul-Ambrose for his skills and mentorship.
"Steve Paul Ambrose slowly transitioned out of poker, he got married five and a half years ago and his first child about four and a half years ago. Poker became sort of a side project for him and he even went into teacher's college to become a high school teacher."
"Pacman got out of poker even earlier and he'll be the first to tell you that if it weren't for Steve he probably wouldn't have made it to the higher stakes. He probably would've been a good mid stakes player, but Steve really helped him get to the highest level back then. Aaron made a few hundred thousand from poker, paid off his house and University and then he got married as well. I think he's becoming a physiotherapist right now and because both of them are about seven years older than I am we are in different situations of our lives. When I do see them we get right back into our old jokes and they will always be good friends of mine," McDonald said.

Mike McDonald and Steve Paul-Ambrose at the 2008 PCA
Coaching a World Champion
Nowadays it's not McDonald who needs help and coaching. He still works on his game and also that of others. McDonald coached WSOP Main Event finalists Pius Heinz who ultimately won the 2011 Main Event and Jake Balsiger, who finished third in the 2012 Main Event.
"At every point in your career you need to work on your game, especially as trends change. The game theory, or optimal solution, will be the same but people will always have exploitable tendencies and those vary from year to year, or even month to month. Staying on top of those, or ahead of the curve, is a very important thing. You can't become complacent and assume you've got it figured out. You always need to explore how to exploit new types of regs, tournament structures or whatever the new thing may be," McDonald said as he got into coaching the two former Main Event finalists.
"I charged $600 per hour and going forward I would likely charge something that equates to a similar amount per hour, but where it doesn't feel like they are paying out of pocket. For instance in Jake's situation, he was considering getting a little bit of coaching and paying out of pocket, or getting a ton of coaching if the people that had pieces of him wanted to contribute. The people that had pieces of him were not interested in paying for his coaching and told him to pay out of pocket. A couple of players that had invested in him told me after the fact that they regretted not taking that extra coaching, because Jake only took six hours instead of perhaps 50 he would've otherwise have gotten. I think it works out much better if it can be a much bigger project, kind of what like Jason Somerville and Russell Thomas did where they eat, sleep, breath poker for a couple of months instead ofjust fixing a few leaks."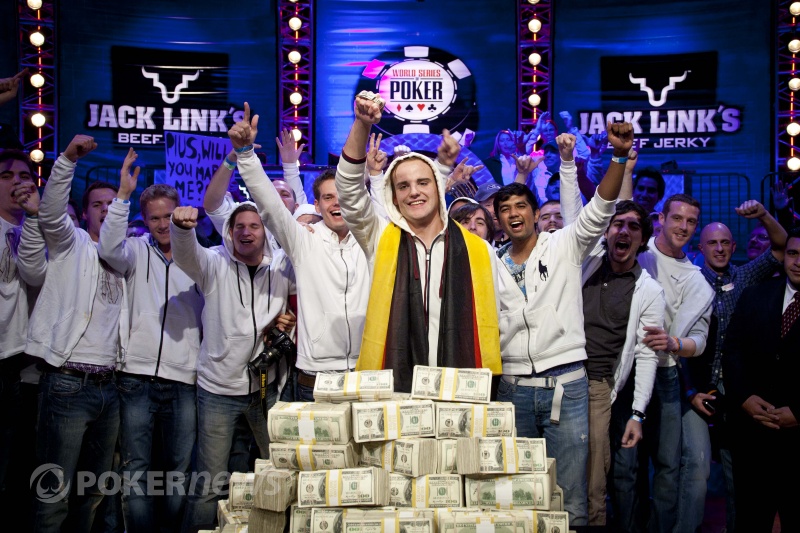 Pius Heinz after winning the WSOP Main Event (Photo credit: PokerNews.com)
"As far as the process goes, I'm a good friend with Johannes Strassmann, who was at my Dortmund final table, and he reached out to me on Facebook after he heard that Pius was looking for a coach. I played with Jake on Day 4 of the Main Event and he told me then that he would be interested in coaching in case he would go deep, as he was only playing MTTs for a few months. It was sort of a coincidence that I mentioned that I had done coaching before and when he made the final table he messaged me."
"The one thing I would say about Pius is that he was really good already. People might've underestimated him a little bit because he didn't have any huge scores before that. He doesn't really like poker that much and right now I don't think he even plays at all. I think people assume he was just some guy who played mediocre and happened to win a tournament, but he did not have any beginner questions. The discussions I had with him were more similar to what I would talk about with friends, than the teacher-student type of relationship. In the end most of our coaching was about not committing ICM suicide at the final table. And things like, what types of spots to take when you're short but not the shortest, how to minimize variance and when to give up some equity in favor of being in the tournament."
"About an hour and a half into the final table he was chip leader with twice as much as the number two and he ended up not having to deal with that at all, so that was quite funny," McDonald laughed. "There weren't any hands that I saw on TV later where I thought, 'This is something I taught him', and to be honest I don't think I changed both Jake and Pius' game that much. They got a confidence boost from getting coached, but it's not something that's going to bring a night and day difference to their game," McDonald said.
The McDonald Stare
One thing McDonald didn't teach Heinz or Balsiger is his imposing betting style. The McDonald-stare is well known in casinos around the world and he still thinks it's beneficial. McDonald also gives us the full story on how he got to implement this intimidating gaze.
"I remember talking to Haralabos Voulgaris during my second ever live tournament and at that time I was clueless about live poker. He told me that as an 18-year old with no feel for live poker, to stare at the table and make the same movements every single time. For three or four years I actually did that and I tried to be as consistent as possible."
"I was never really using the live tell aspect of poker until the river, when it was on me to call or fold. Over time I started realizing that all the very good live players like Phil Ivey and Daniel Negreanu were picking up so many more things at the table than I was, so I decided that the next time I would play a live tournament, that did not really matter to me that much, I was going to focus on every little bit of information out there. During that tournament I watched every single player the entire time throughout the hand we were playing, it was a small side event in Prague, and I finished second."
"I didn't want to do it in a main event first, as I could give off lots of tells at first, but it worked and I did it in that tournament as well. In the main I ended up finishing 25th and on top of that I finished second in the High Roller. After that I thought, if it ain't broke don't fix it so I kept playing that style. I noticed so many things in those tournaments that I didn't before and I've definitely made some enemies and lost some friends because of it. My live presence is a lot better nowadays and I keep more focused and I didn't even realize the intimidation factor would be relevant as well," McDonald said.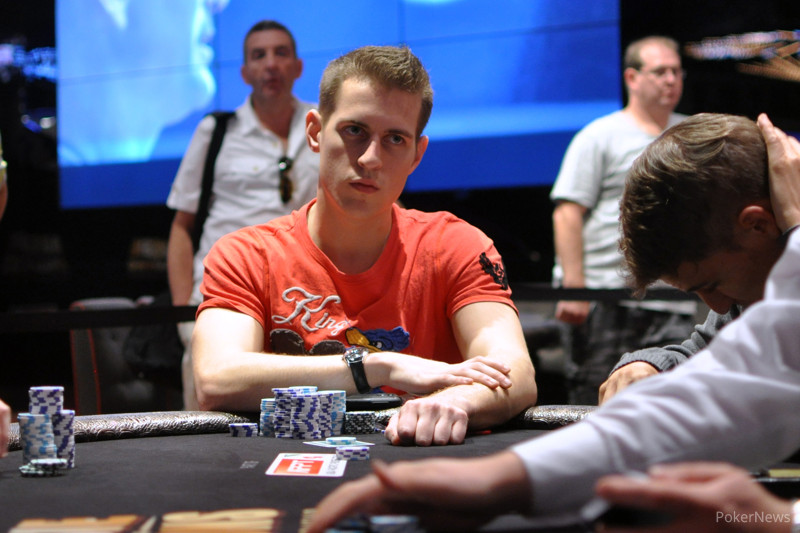 The signature stare in play during the 2013 Aussie Millions. (Photo credit: PokerNews.com)
Of course this style works great against most player, but sometimes staring a person down just doesn't feel right.
"There are two types of people I don't feel comfortable staring at. The first is the ultra-recreational player. When I was in St. Kitts for the Alpha8 there were a lot of players that had never played a poker tournament before, so in that situation I was trying to be as calm and nice as I could be. You're not going to want to play another $100,000 tournament when during the first hand there's some punk staring you down and owns you. I decided there to be nicer to recreational players and just stare at the table, or at their hands for instance."
"The other group of people is the ones that also have impressive stare downs. There are even a few that have a fiercer stare down than I do, whom I'll just lose staring matches with! The first one that comes to mind is Athanasios Polychronopoulos. People say that I look like a serial killer, but with him I really get the feeling he's going to reach across the table and murder me," McDonald jokingly said.
And then there was that one time Phil Ivey caught him staring, and that didn't go as planned for McDonald.
"Ivey owned me one time when I was staring him down. It was a hand in the €25,000 tournament at EPT Barcelona and Martin Finger raised hijack -1, Andrew Badecker three-bet the hijack, Liv Boeree slowly looked at her cards, looked at both her opponents and cold four-bet. I did the same thing and cold five-bet and Ivey was next to act in the small blind. He looked at all players involved before making this goofy face where he moves his chin down, lowers his head much lower than mine and then looks up to me," McDonald recalled.
"He gives me this weird stare and I start to laugh, after which he snap-folds his cards. The hand plays out where I'm laughing through the hand in Day 2 of a €25,000 event and DocSands asked Phil, 'When they laugh they're weak?' and he said, 'No, when they laugh they're always strong.' I had queens that hand, and while I'm not afraid to stare at Ivey, me laughing might've made him fold something like jacks. Of course when I cold five-bet I'm usually pretty strong, but in that situation it felt like I got owned by not keeping my composure," McDonald said.
You can follow Mike McDonald on Twitter by clicking this link, and make sure to stay tuned to iGaming.org as we'll bring you many more in-depth stories including interviews with Dan Smith and Jeff Rossiter.
Front page photo: Danny Maxwell, PokerNews.com